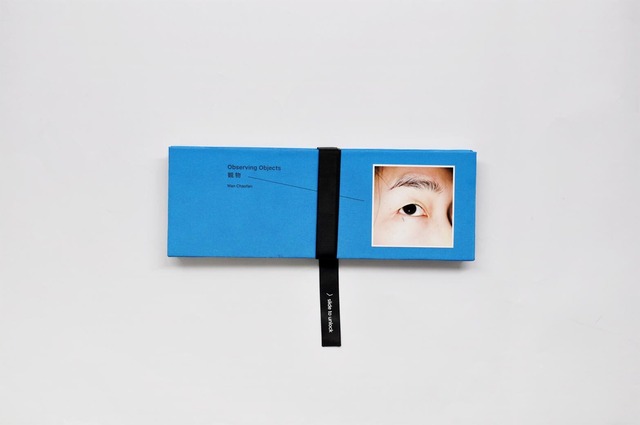 観物 / Observing Objects 【宛 超凡】
著者:宛 超凡 | Wan Chaofan
発行:Wan Publishing
デザイン: 唐 雅怡 | Tang Yayi
刊行年:2018年11月
ページ数:44 ページ
BOOK EDITION:60部
製本:蛇腹+ハードカバー+アクリルケース
本文紙: 竹尾IJリーブル
印刷技法: インクジェット
サイズ:253x89x18mm
言語:和文/英文/中文
価格:¥7,700(税込)

觀物 / Observing Objects 【宛 超凡】を1冊購入していただくごとに
作者のオリジナルプリントが一枚付属いたします。

original print
paper size :217×217㎜
image size :150×150㎜
edition:各 image 20
paper :CANSON® INFINITY PHOTO HIGH GLOSS PREMIUM RC 315 GSM

※購入の際は、3種類のイメージより1種類お選びいただき、
購入者情報記入の備考欄にお選びいただいた写真番号の入力お願いします。

作品説明

身近な物で身近な物を撮る。
写真は限界がないが、メディアは限界がある。デジタルカメラ、フィルムカメラ、モノクロフィルム、カラーフィルム、35mmカメラ、中判カメラ、大判カメラ。カメラとフィルムの組み合わせ次第で、撮られた作品の内容は変わると考える。
優れた撮影機能があるスマートフォンの出現によって、写真への敷居がなくなった。写真は徹底的に大衆化した。誰でも写真を撮れるようになったこの時代に、スマートフォン写真の限界と方向を模索したいと思う。
コンパクト、持ち歩きが便利、且ついつも身近なところに置いてあるということは、スマートフォンとカメラの違いと考えられる。カメラを持ってない時、カメラを出しにくい時、わざわざカメラを出す必要がない時、スマートフォンは一番便利な撮影道具となる。したがって、食べ物、小物、体の一部などを被写体として撮影する。身近な物(スマートフォン)でこのような物を撮る。このプロジェクト制作を通じて、自分にとって最もスマートフォンにふさわしい撮影対象を探索したいと考える。
もちろん、最もふさわしいという言葉は自分なりの考え方なので、共通性がない可能性がある。しかも、もう一つスマートフォンと相性がいい題材がある。それは、顔や上半身のセルフポートレートである。しかし、残念ながら私にはそれはできない。

Shooting my surroundings with what is always with me.
Photography has no boundaries, yet there are certain limitations with all media. Digital cameras, film cameras, B&W film, color film, 35mm cameras, medium format, large format; they all embody the diverse possibilities of photography.
And now, with the rapid development of technology that allows mobile picture-taking, the threshold of photography has become lower than ever, which in turn has accelerated the democratization of it as a popular tool. Under these circumstances, I wanted to explore the deep possibilities as well as the limitations of mobile photography.
Smartphones, with their inherent characteristics, such as being small, portable, and always at the ready, enjoy greater advantages than traditional cameras. In situations where cameras are not around, the atmosphere of the place might be disrupted if a camera were to suddenly appear, or perhaps the subject in question might be too insignificant for a professional camera to bother with. In these cases, the iPhone offers a better alternative.
Therefore, I use my iPhone, the camera that is always with me, to capture little things lying around like food, little objects, close-ups of body parts and so on. I'm doing this as a means to explore and better understand what I think makes the best subject matter for mobile photography.
Indeed, saying "the best subject matter" is highly personal and subjective. I am aware that portraits are also suitable subjects for mobile photography. However, unfortunately, I am incapable of taking them.
Add to Like via app
Shipping method / fee

Payment method